Okay, so been on here for a bit now and thought it was about time I started showing you guys what's actually happening to the car (and also if I put a sort of log on here, I can look back when I forget what I was doing)!
Plus I'm back up at uni for a week now before term starts and I'm already bored out of my skull so thought I would use the time to finally get round to documenting this project so far.
Now just to set the scene, I bought this 924 as a 'project car', managed to get a really really good price on it and although it (just about) ran and had '12 months MOT' I decided it would become a nice little project to try and get it running nicely again (especially considering I'm still only 19, and would hate to think what the insurance on this thing would be if I was to just jump in it and start driving straight away!) So my plan is, to really take my time and have a nice project going for the holidays when I'm back from uni.
I'm not completely jumping in at the deep end... previous projects include restoring a Triumph TR6 and a couple of minis, my mate also tinkers around with cars and I often go and help him along with his Triumph TR4. We've now both done things (as you can imagine with our history of BL cars) such as plenty of cutting out rust and welding, plenty of electrics and trying to get old bolts out, that quite frankly don't want to ever come out, let alone in one piece, engine rebuilds, chassis work, suspension, drivetrains, brakes etc etc! So hopefully, I just about have enough of a clue that I don't do this 924 any harm :hope:
Anyway, to start the story off, here are a couple of pictures of the porsche arriving! (what an exciting day!) :grin:
On the back of the trailer!
Excited!!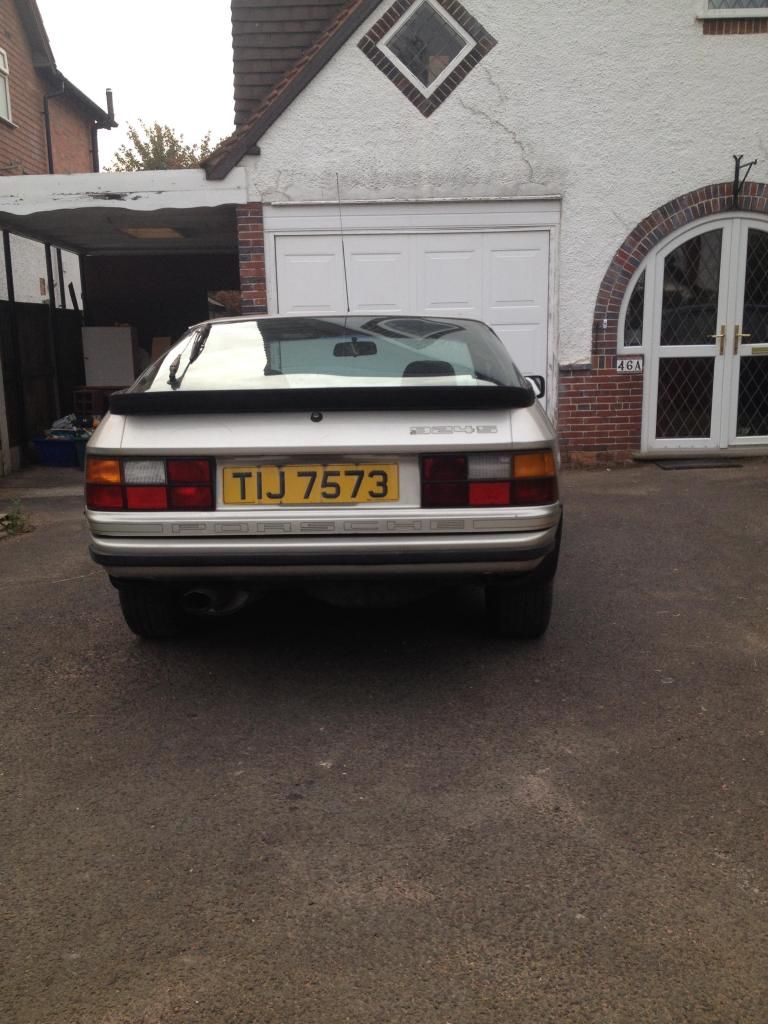 First impressions of the car...
It really smells! :mrgreen: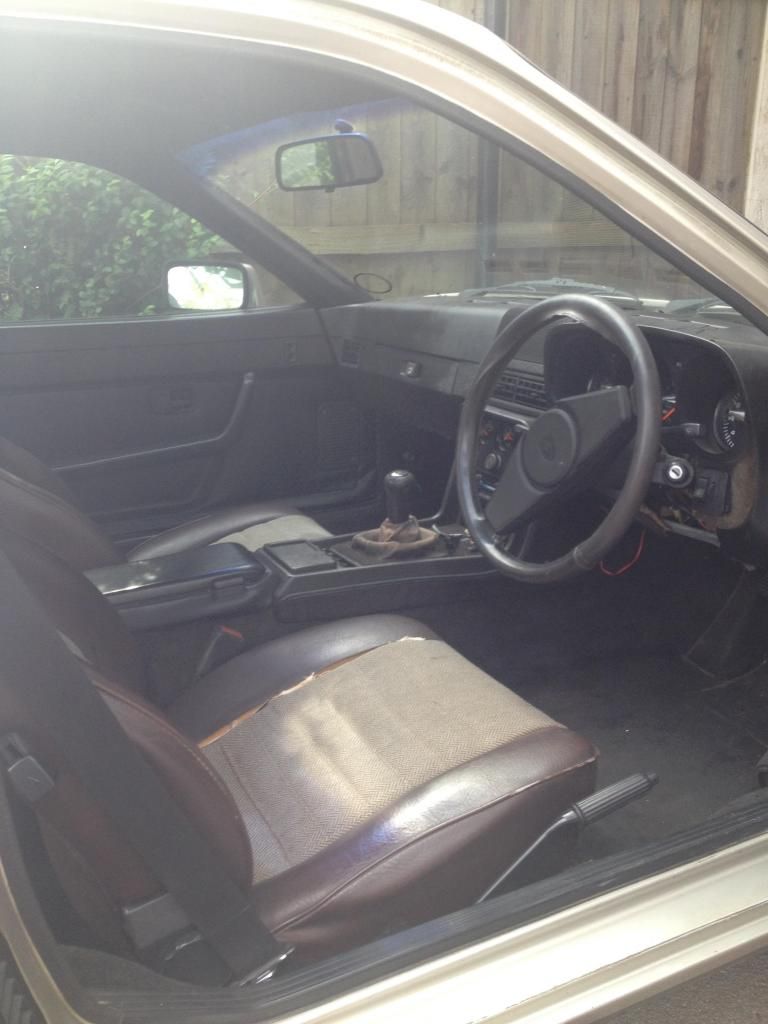 There has obviously been a history of leaks and general dampness in this car as the back seats were completely covered in mould (bleurgh) and rather damp, the carpets were also pretty much wet through and by god it smelt in there, but not to worry!
The back seats were pulled out and promptly thrown away!
(I aim to try and replace them with a home made rear seat delete, much like the club racers back in the day)
Mainly because of my small student budget, and lack of friends and thus no real need for rear seats ;-)
Oh and because I think it looks pretty cool :cool:
mouldy seats out!
Carpets also came out, and given a thorough clean and shampoo in the upstairs bath, (Strategically timed for when my mother was at work) :cool: and they now smell divine.. Have also bought a bottle of carpet dye, so in the summer (when it's lovely and warm) I can give them a good going over and return them to their old selves! (Did this in the mini, and for such a small price for the dye, made such a good impression once back in the car!)
Upon removal of the rear carpets I discovered the original tool kit, sunroof bag, jack and spare wheel! All in pretty good order which was a nice surprise!) And also some really solid looking footwells and panels!!
(A rather unfamiliar sight for someone who is used to old BL cars) ;-)
Although I have not been able to properly look for the source of the leaks, a couple of things have caught my eye.
1) the sunroof was taped up (obviously the previous owners attempt to stop the leaks
2) the sunroof has a small chip in one of the corners, which can not be ideal for water tightness
3) the sunroof seal is in pretty poor shape and the sunroof generally feels 'loose' on the roof
4) and the drains were completely blocked up, which is now fixed thanks to an air compressor and curtain hanger!
By the way guys, my fibreglass skills probably aren't up to fixing the sunroof, so if anyone has one going spare I would be more than grateful!
Anyway moving onto the engine
When I went to pick up the car the previous owner had managed to get it running for me, but it had been used very little in the last 6 years, I think it has only covered a matter of a couple of hundred miles in the last 6 years according to the paper work.
The engine seemed to sound okay to me, although I have not heard a 924 running before, there were no obvious bangs or knocks, and the idle seemed to be pretty smooth and settled, I also gave it a couple of blips of the throttle and again it seemed okay.. Didn't want to rev the balls off it though as it had been used so little recently, and was low on petrol, so I hate to think what kind of gunk the old girl was sucking up out of the old tank..
Anyway here is a picture of the engine bay, as it was when I picked it up..
Everything seemed okay, and although a couple of bits and bobs were missing, hopefully nothing too serious.
Although, when I eventually got it home and tried to start it up to drive it off the trailer, it just wasn't having it.. possibly due to lack of use, and probably a rather flat battery (hopefully nothing too serious!)
Before I get it going again I plan to give it a really thorough service anyway, ie plugs, leads, belts, fluids etc, and I have no idea how well looked after she has been by her previous owners..
I also spent a good 20 mins sitting in the cabin, seeing what was what electronics wise..
Electric windows: don't work
Electric mirrors: don't work
Pop up lights: both worked, then only one worked, now neither work :lol:
Heater: blew air, but couldn't tell if heat worked because engine was cold
Dials: all seemed to be okay, had sensible readings for voltage, rpm, oil pressure etc
Anything required for the MOT: seemed to all work (which is just as well because it had 12 months MOT when I got it!)
Gearbox feels okay: Feels pretty slick, no odd points in the movement apart from perhaps feeling a bit loose?
Dashboard: A few small cracks, but generally pretty good
Carpets: Bloody soaking!
Stereo: Non existant, but some very suspicious looking aftermarket wiring done, like two male spade connectors forced together! :lol: so obviously a previous owner somewhere has played around with the sound system a bit, also accompanied by what look like new-ish door speakers
Anyway, that's pretty much the first impressions/look over done.. next for the dismantling stage! :D
Next update will be how everything comes out, how it all looks :D
Okay, so next update is how the car has been half stripped out..
The entire interior has come out, all seats, all carpets, soggy soundproofing, centre console, dashboard all out! Just leaving pretty solid looking footwells and decent inner sills, oh and a pile of aftermarket wiring from an alarm/immobiliser the car had fitted..
One problem enountered though... the front seats took so so so so much getting out! They were well and truly stuck! :bang:
Ended up having to completely soak the rails in gt85, wd40 and everything i could find for about a week, then set up a scissor jack up against the rear bench and opened it, slowly moving the seats on their rails to expose the bolts. But we got there eventually! :D
However this only revealed a hideous bodge job on the driver side...
On the box section the front seat mounts fit into, obviously (somehow!) the box section had collapsed and the original captive nut etc was nowhere to be found, but in its place someone had just drilled two holes through the box section AND the floor and just stuck a massive whopping bolt through the lot, with a nut sticking out under the car! :bang:
Leaving me needing to weld these holes in the floor and replace a section of the box section for the seats to sit on..
Hey ho, the rest of the inside looks pretty solid! Even the area under the battery tray etc, which was a relief to see!
One question though, there appears to be a sort of tar/bitumin padding under all the carpets, which is well and truly stuck to the floor, is this fitted originally by porsche, and what are peoples opinions on this stuff? Just leave it in?
Anyway here's the interior now :D
You can see the bits where the seat mounts are buggered (technical term right?) And where someone has obviously tried to weld them already.. I don't even want to know how this all even happened in the first place, I mean that's thick solid steel there! :eek:
And from behind.. so shiny!!
So yeah that's the interior out! :cool:
The next afternoon was spent removing various bits and bobs from under the bonnet, the following all came out:
1) Radiator and pretty much the entire cooling system
2) The whole fuel injection system
3) I also took the head off the engine, so I could just clean it up a bit and also just try and gauge the general condition inside the engine. But it's all back on now with a nice new gasket, and will do a compression test when I get home again just to check it's all okay before I carry on!
And then just all the other little bits.. Just so you can get an idea here's a picture of the emptier looking engine bay, and a rather fuller looking bedroom :grin: (Garage is was getting rather full at this point)
The emptier engine bay now
And the fuller bedroom..
I also managed to set about cleaning up a few parts..
A good afternoon of scrubbing and sanding gave birth to this now, rather shiny looking inlet manifold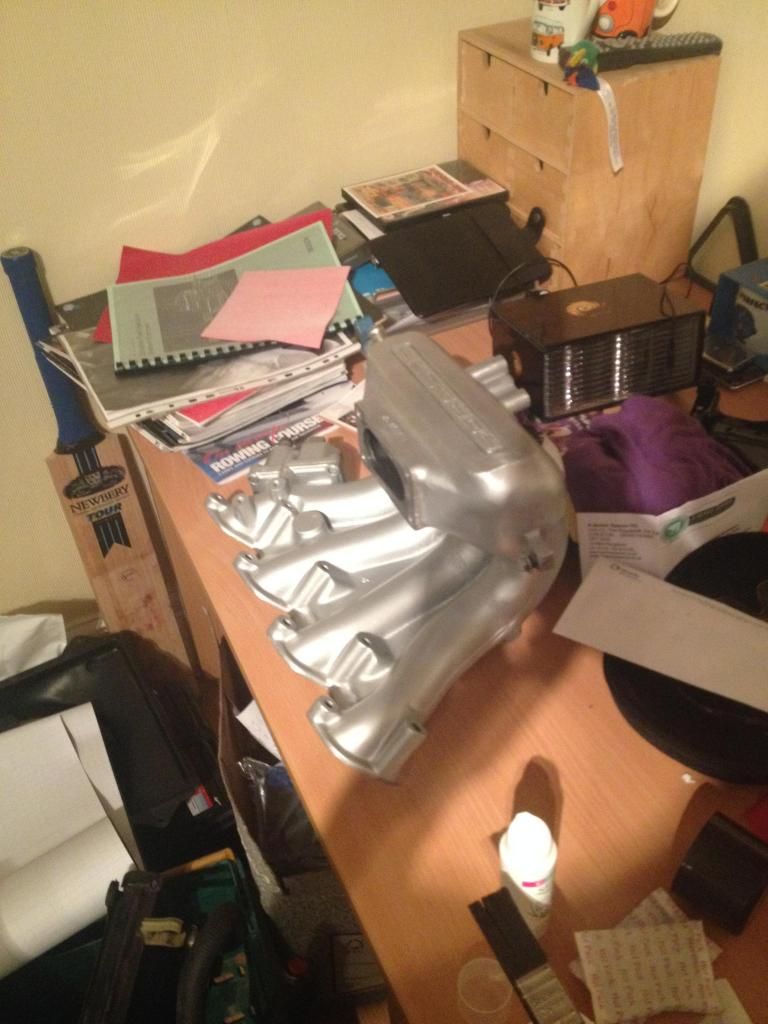 And this throttle body:
And this aux air valve
All of these parts I also checked and cleaned up the inner workings etc, so they ought to all be as good as new when they go back in later!
Oh and also here's a picture of the cam just before the head came off, just so you can get an idea of the engine condition (sort of)
And here's a picture of the nicely cleaned up and painted cylinder head
(We all know that red things go faster right?) ;-)
I also set about starting to restore the dashboard, which like most 924s I believe was in a bit of a sorry, cracked state..
So here's the old one
And now here it is half way through being restored, just need to now sand down the areas that I've filled, put one more thin layer of filler on and use an old piece of leather I found with a similar graining to the vinyl on the dashboard so as to imprint the graining onto it, then I think I will use a vinyl dye/paint to just go over the whole thing to bring the colour back out again, and also to hide the filler which is a slightly different shade of black :smile:
Anyway, here it is half way through being restored!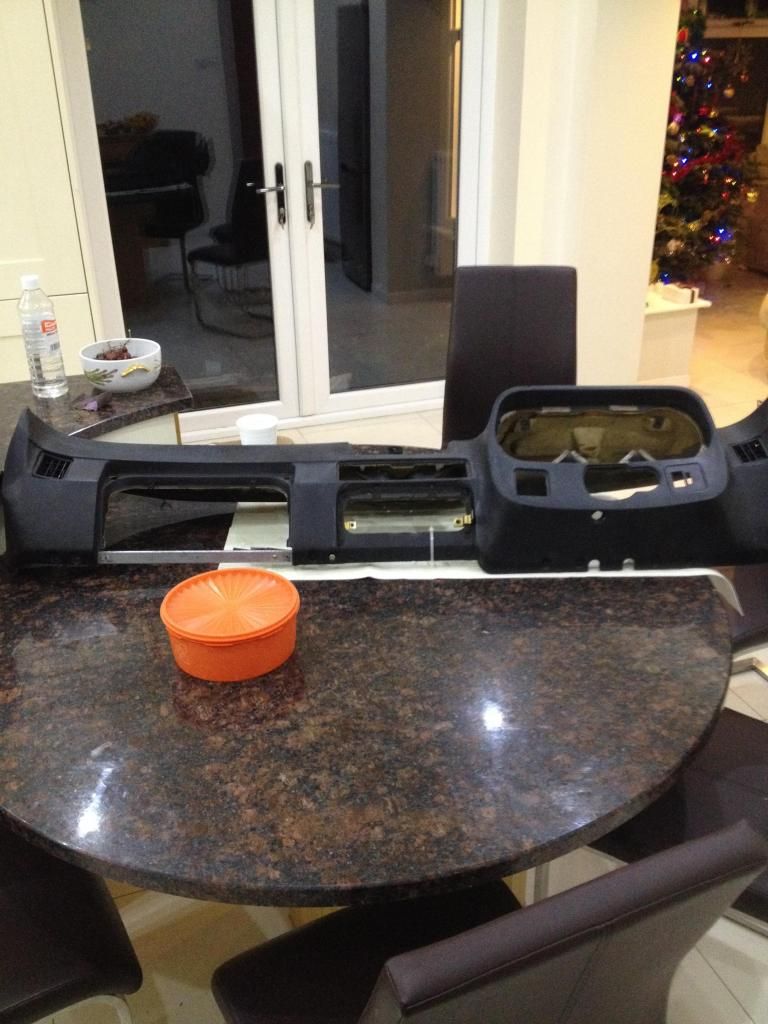 Obviously you can see the bits where I have smoothed out and then filled the cracks, but hopefully you wont even know they're there when it's finished :grin:
Anyway, that's it for now! But lots more to follow later!